Hunan Bamboo Veneer Co., Ltd is the biggest
bamboo plywood supplier
in the world, Through years of constant pursuit ,the company has built a corporate image
of "High Quality, Integrity business " . Our registered trademark of ZNSJ is selected as China well-known brand, our products are preferred brand for concrete formwork
and block making . Through e-commerce, ZNSJ plywood is not only hot sale in China via E-commerce, but also exported to United States, New Zealand, Philippines,
Thailand, Indonesia, Burma, Cambodia, Ghana, Tanzania, Angola, Ethiopia, Tajikistan, Zambia, north Korea, Algeria, Cameroon, Mongolia, Sri Lanka, Zimbabwe, Bolivia,
Australia, Russia, Dubai, Nigeria, South Africa, India, Sudan, Mexico, Mauritius, Burundi, Sierra Leone, Iran, Pakistan, Bulgaria, Congo-Kinshasa, Vietnam, Brazil and other
countries and regions with large quantity.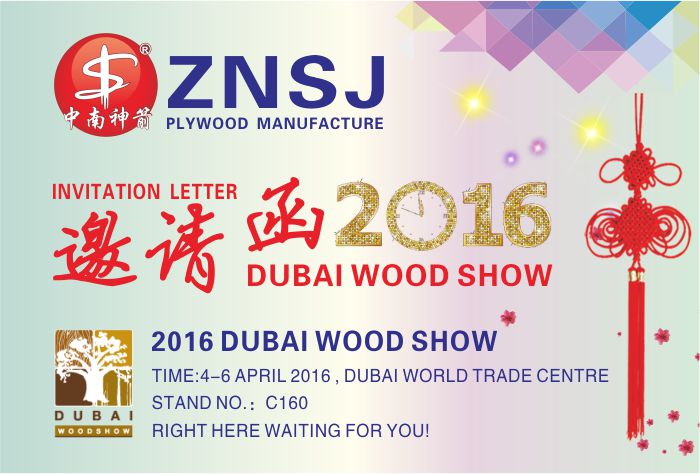 Now we are so lucky to attend the 2016 DUBAI WOOD SHOW, the exhibition time is Apr.4th-Apr.6th,2016. Our Stand No is : C160. Welcome to visit our Stand
and communicate with us , we are right here waiting for you!
Expo info of Hunan Bamboo Veneer Co., Ltd
Exhibition Name: 2016 DUBAI WOOD SHOW
DATE:Apr.4th-Apr.6th,2016
Address: DUBAI WORLD TRADE CENTER
Stand No.: DUBAI WORLD TRADE CENTER,C160
Pre:Bamboo Plywood Factory-ZNSJ Families' Shuifumiao Family Fun
Next:ZNSJ-Bamboo plywood Supplier will attend PAK-CHINA BUSINESS FORUM 2016