Bamboo plywood
can be divided into bamboo plywood for building construction and bamboo plywood for bridge construction, and the size generally is 1220*2440mm,
however, thickness is customized by different requirements depending on the project requirements. Generally speaking , house-building construction use 8~10mm
(thickness) and bridge construction engieering use 12~18mm(thickness). ZNSJ bamboo plywood factory stands out in many manufacturers since 2003 , the quality
of brand success, service to create value!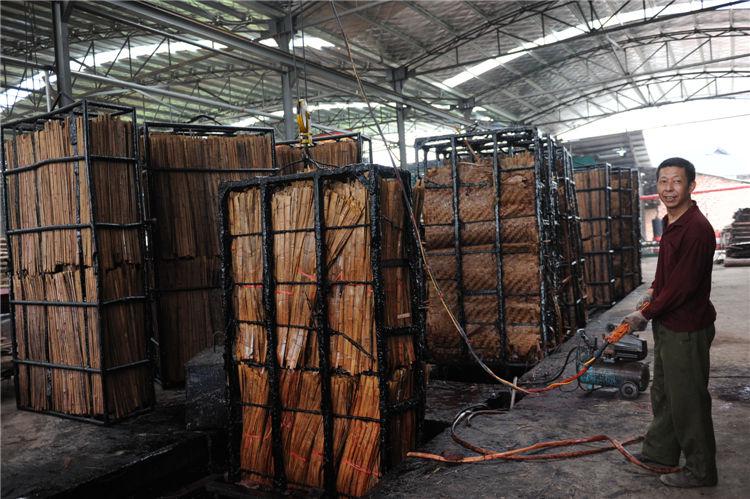 On February 25th, General Manager Peng from Beijing called to ZNSJ and told that he have bidden a big Trade Mall at abroad in need of 5000pieces bamboo plywood,
which there many company bidden this project,then Mr Peng decided to mass success, meanwhile consulted a few bamboo plywood manufactures and received samples
from them, but most were dominated by thick curtains which were unable to meet the requirements for bid . General Manager Peng also required us to express samples of
bamboo plywood to them. The bid opening time is on February 28th, however, ZNSJ samples arrived in the afternoon of the 28th, in fact, the public bidding has been
confirmed to choose which bamboo plywood manufacturer in the morning of the 28th. After receiving our samples, Peng felt the quality of ZNSJ
bamboo plywood
was very good and wanted to do his best to try again , then he contacted the person in charge and sent our samples for comparison.
On March 2nd, Manager Peng called to tell us that we can arrange the order of 5000pieces 1220*2440*10mm
bamboo plywood
whose quality should be same as the
sample bamboo plywood manufacturer adhere to the most competitive brand, more durable , of course more economical !
If you are interested in ZNSJ
bamboo plywood
or have other questions , welcome to call +86 7386872220 or send email to znsj@znsjplywood.com,and we will
wholeheartedly service for you 24 hours.
-----------Editor: Angela Zhang
Copyright:http://www.znsjplywood.com, Please indicate the source if reprint .
Pre:Rich Exporting Experience Makes ZNSJ Bamboo Plywood Be popular In Africa
Next: ZNSJ is designated as the only bamboo plywood supplier for Kariba South Extension Project by Sinohydro Zimbabwe Limited.