Bamboo plywood for bridge construction
is widely used in bridge project, dam, highway, railway ,tunnel and other concrete projects, we should pay attention to what are the key points of construction safety in the process of construction.Please allow me to explain for you:

一.How to store bamboo plywood for bridge construction
1,The stacking yard shoule be flat and spacious, various tempaltes should classify and stack neatly according to specifications.
2,It should cushion with long square timber below the templates when store and it is best to avoid of sunny and rainy if condition is allowed.
3, Please have better to cover with tarpaulins to pretect critical sunny and rainy from causing blowout of the plate after paving the templates before pouring concrete.
4,Sole timber should be vertical-align and strap firmly when overlap templates.
二.The lifting and installation of
bamboo plywood for bridge construction
1,There must have operation platform,stairway, protective railings and other subsidiaries or protective facilities on the construction, and shall be immediately repaired
if there is any damages.
2, It should appropriately adjust appropriately adjust , keep stable rising and falling, accurate place and strictly prohibit to swing sharply before lifting templates.
3,It cannot use hook and muse use snap ring lifting to ensure the safety in the process of lifting templates .
4,It is forbidden to lift templates along with anyone.
5, It should be connect all templates with bolts into a whole in time to prevent from dumping.
6,It should be taken electric-shock safeguard measures, connect all templates together with lightning conduction and other electrical device after installing all templates.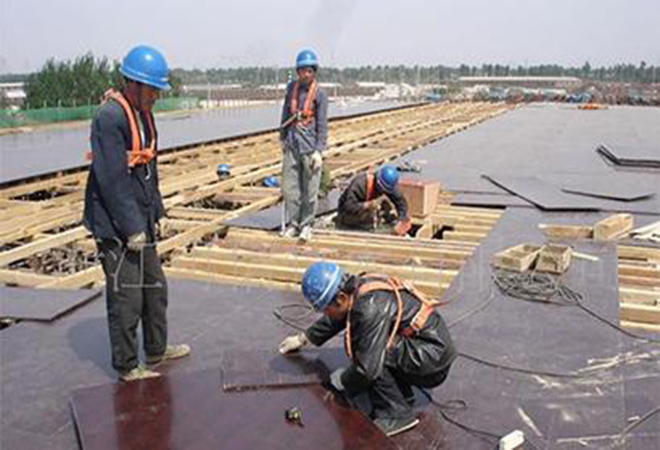 三、Formwork removal of
bamboo plywood for bridge construction
1,Check whether all the bolts are removed and templates are divorced from concrete before lifting removal formwork .
2,Fasten temporaryly, place face to face,leave a sidewalk with width of 60cm in order to be convenient to clear up and brush release agent after removing .
3, Please clear up the surface of board , brush release agent in time and neatly packed in a dry ventilated place which is no need to cushion with square timber.
Zhongnan Shenjian is specialized in the production of bamboo plywood for bridge construction for 12years and has a professional production technology and perfect after-sales service.We promise our price is the most competitive with the same quality and the quality is the best with the same price.
If you are interested in any kinds of ZNSJ
bamboo plywood for bridge construction
have other questions , welcome to call +86 7386872220 or send email to znsj@znsjplywood.com,and we will wholeheartedly service for you 24 hours.
-----------Editor: Angela Zhang
Copyright:http://www.znsjplywood.com, Please indicate the source if reprint.
Pre:Where is the most competitive bamboo plywood?
Next: The price dialysis and development trend of bamboo pallet