The famous usage of
bamboo plywood
we know is for the templates pouring concrete cement in house building construction, and some people may also know that it can
also be used on bridges, viaducts , tunnels, high-speed rail project , but what we do not know yet is that it can also be customized into pallets for block making factories
according to customers' requirements, and used as container flooring in container car. Today, please allow me to tell you our
bamboo plywood
also can be used to build
warehouse loft as a place to store items.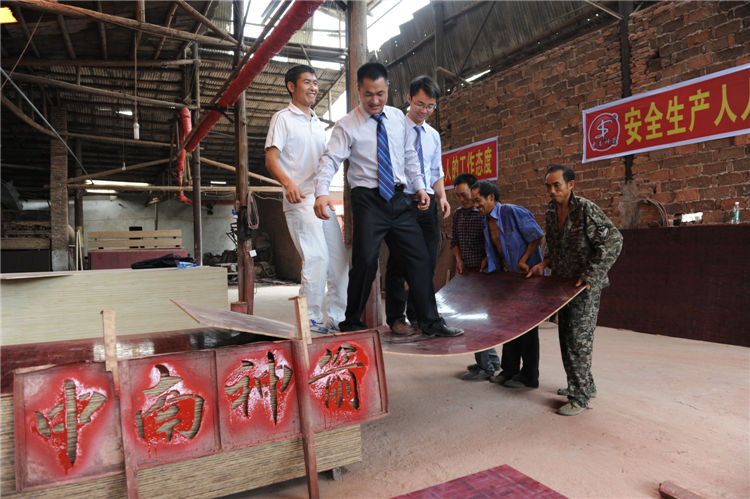 Bamboo plywood bearing strength Test

Manager Qin from Hubei was in need of such kinds of bamboo plywood to build a Storage warehouse where will be placed are several hundred kilograms of small-scale
production machines, therefore, they also need higher load-bearing capacity bamboo plywood and wood timber with small quantity. Our Sales Manager Xu recommend
18mm bamboo plywood because of its high strength and good toughness, and bending strength of bamboo plywood is equivalent to 8-10 times the bending strength
of wood.,,which it can be cut and nailed. Meanwhile,water resistance ,acid and alkali , corrosion resistance is quite high, which fully meet Mr Qin's requirements. After
receiving bamboo plywood photos and video, Mr Qin order several tens of 1220*2440*18mm bamboo plywood and 50pieces of 4*6*4、5*6*4 wood timber.
Bamboo plywood packing details

Manager Xu went to factory personally and check the inventory of bamboo plywood and wood timber, then arranged this batch of goods at that day. Mr Qin spoke highly of
ZNSJ products and service after receiving the goods.
If you are interested in ZNSJ high strength bamboo plywood for have other questions , welcome to call +86 7386872220 or send email to znsj@znsjplywood.com, and we will wholeheartedly service for you 24 hours.
-----------Editor: Angela Zhang
Copyright:http://www.znsjplywood.com, Please indicate the source if reprint .
Pre:The success key why PRIMA Formwork choose ZNSJ is due to the uniform thickness of bamboo plywood
Next:ZNSJ and Taiwan compatriot establish cooperation partners relationship through hardwood plywood